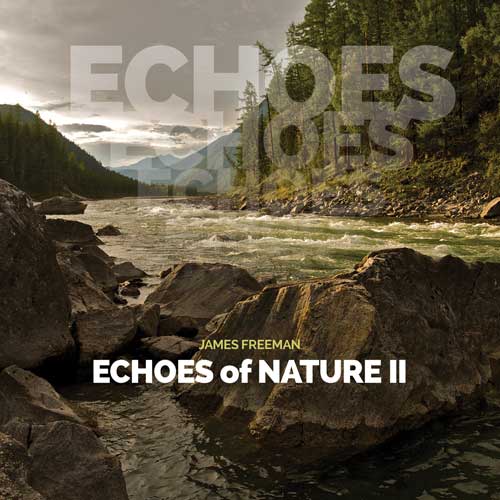 Special Value




Buy James Freeman's Echoes of Narture I & III at an additional $4.00 off




Buy Together Today: $20
The sequel to James Freeman's Echoes of Nature continues with atmospheric sound paintings, auditory kaleidoscope, and interwoven over field recordings of frogs, owls, stream, and birds. Featuring live musicians playing violin, viola, saxophone, clarinet, guitar, and flute, they improvise freely over a fabric of evolving abstract musical modalities, at times dazzling and dramatic, often pastoral in mood. All the soloists are exceptional classical/jazz musicians, and the result is an inspired interplay of creativity.


James Freeman - field recordings, synthesizers
Nika Rejto - flute
Yehudit - viola
Sheldon Brown - saxophone
Carol Alban - flute
Special guest Mads Tolling - violin



Buy at Bandcamp
Buy at Emusic
Buy at iTunes Music Store
Buy at Amazon MP3

"I was impressed with Freeman's first "Echoes of Nature", and this is more of the same, albeit more synthetic-sounding and nimble than the prior. Twenty-minute opener 'Frog Pond' features dexterous synth arpeggios, a frog-like ascending motif that functions almost like a bassline, and animated interplay amongst the soloists ranging in instrumentation from reed to wind to string. Mad Tolling and Yehudit return on violin/viola, as does Nika Rejto on flute and piccolo."- Chain D.L.K.