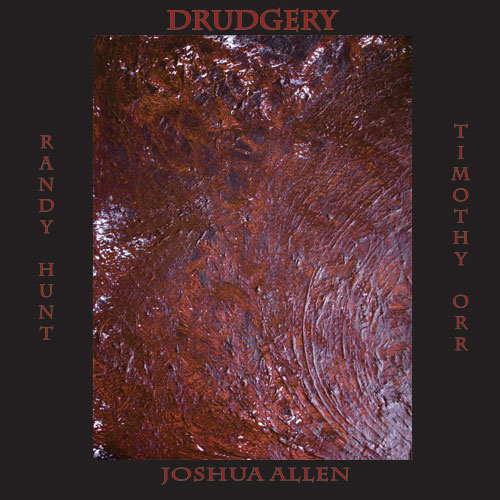 Special Value


Buy Drudgery, and Where Are They? at an additional $5.00 off

Buy Together Today: $20
"The group no one wants to hear!" That's what bassist Damon Smith titled this trio, though to be fair to Mr. Smith, he said it with great reverence and humor. These master musicians Randy Hunt, Josh Allen, and Tim Orr have a long creative history. Their work strives to defy convention; their total being greater than the sum of the parts.
This session recorded on July 25, 2010 at Oakland's New, Improved Recording studio marks the end of a four day stretch where the trio had played a number of concerts both live and on the radio that week prior to the session. Both elated and fatigued, you can almost hear a sense of desperation, a touch of sadism, and great humor in the music, complete with a commitment to the task at hand.

Josh Allen - tenor saxophone
Randy Hunt - double bass
Timothy Orr - drums, percussion, bowed cymbals, bells, gongs, resonating devices

Buy at Bandcamp
Buy at iTunes Music Store
Buy at Amazon MP3
"...their new album is surprisingly enjoyable. "Broken" begins with a long, bracing saxophone solo that might befit a blues tune. Even the swooshy chromatics have a sense of emotional purpose."
- Rachel Swan, East Bay Express

"Very edgy Bay Area trio with a wide-ranging but unified sound. Not all about noise, though they certainly have that in spades. They have a strong group personality, brash and full of spirit, diving in and going for it without taking themselves too seriously. And they get fine results."
KZSU FM 90.1

"...there are no dull moments in this vibrantly performed session." - Rafa Segura, Vital Weekly