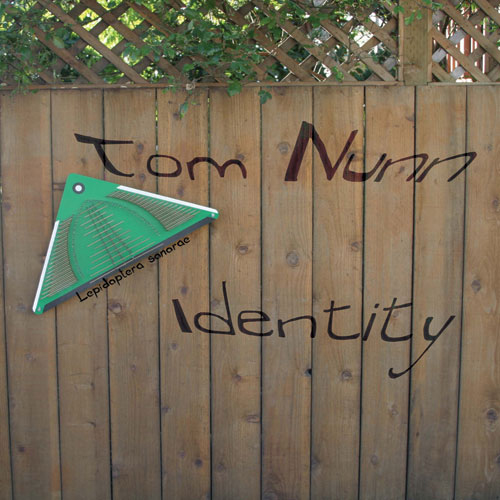 Special Value


Buy Tom Nunn Identity and Burning Palms and get at an additional $5.00 off
Buy Together Today: $20
This solo CD by master instrument builder Tom Nunn features three of his main inventions:

Hybrid Mothics: small triangular shaped boards with "zitherods" (bronze brazing rod supported by three nails), horizontal bronze rods (bridge-like devices), a curved line of finishing nails, and textured surface material. Contact microphones (pickups) are attached to the underside.

The Octatonic T-Rodimba: a 4 x 2 foot sheet of 3/4" high grade plywood with three V-shaped "tiers" of ¼ inch threaded steel rods of various lengths bent at 90° about 4 inches from one end. Each tier of 11 rods is tuned to an octatonic scale (alternating major 2nd/minor 2nd).

The Crustacean: a 32" diameter round stainless steel plate supported by three inflated toy balloons in small cardboard paint buckets. Bronze brazing rods of various diameters and lengths are brazed (welded) to the top surface and are arranged in curved rows to facilitate bowing the rods individually.

Tom Nunn has designed, built and performed with original instruments as an improviser since 1976, and has been active in the Bay Area since 1978. He currently plays with the trios, Axallto and RTD3.



Buy at Bandcamp
Buy at Apple Music
Buy at Amazon MP3

"I can only urge you to buy yourself this impressive piece of musical mastership. 'Identity' stands out because of the extremely unique circumstances it has been created under. It is an adventure, a ride back in time when people had to use their hands to create instruments, as well as a ride into the musical future, breaking barriers with means very unusual in the 21st century. Tom Nunn did it all. A truly great achievement. - Fred M. Wheeler Tokafi

"For while many have created new and beautiful instruments, the ability to transcend their most basic function eludes even the most talented of builders. With "Identity," Nunn finds himself among the virtuosi, genuinely able to speak with the remarkable voice of his creations." - DaveX Startling Moniker

"A homeopathic cure against the excesses of studio production, "Identity" is also a justification for anyone still dreaming to change the world with an invention." - Massimo Ricci Touching Extremes

"...a constant sense of surprise and discovery that very few others can match." - J Worley Aiding & Abetting

"- this is taking 'found sound' to the next level and beyond. Take a listen and hear these magical instruments at work." - J-Sin Smother.net

"... some renegade entomologists were able to live with these amazon arthropods and discovered that the sonic emanations are also a complex form of artistry enjoyed by these evolved insects."
- Thurston Hunger KFJC Radio