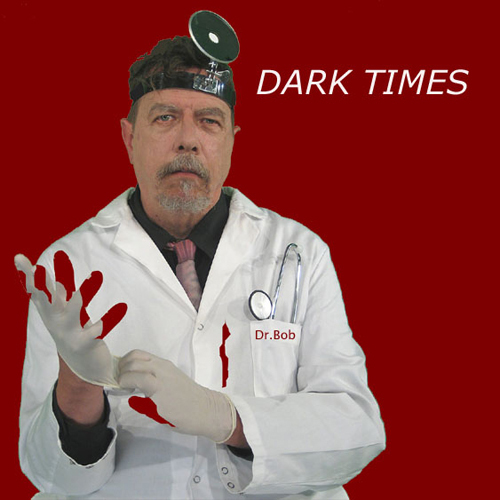 Special Value


Buy Doctor Bob Dark Times and Ghost In the House at an additional $4.00 off

Buy Together Today: $22
Doctor Bob plays songs for a dark and bitter world. They range from scary to the surreal to the abstract and frequently dwell in a space between idea and word.
Doctor Bob is a project of Bob Marsh (whose mother always wanted him to be a doctor) and David Michalak (whose favorite TV show was Mr. Wzard). Bob Marsh sings, rants and yowls whilst committing unnatural acts with his cello and other electronic devices creating a unique chemistry with the equally unnatural lap steel guitar style of David Michalak.

Buy at Bandcamp
Buy at Apple Music
Buy at Amazon MP3
"What can be said with an angreeable amount of certainty is that their musical endeavours as "Doctor Bob" are lightyears from anything that is currently being recorded, released, performed or even thought about anywhere on this planet." - Tobias Fischer, Tokafi

"This disc is just more proof that it is indeed possible to achieve an unsettling musical vision with a minimal set of tools, provided one has an overabundance of demented vision." -RKF, Dead Angel

"Liquescent lights and qualmish chordal wavering are generated by a seesaw-like oscillation between Marsh's strolling manipulations and Michalak's roasting reminiscences, launching the music towards galactic dark alleys that smell like rotten fish, inhabited by strange characters who tell their stories with angelic voice that morphs into a distorted rasp or fuses with the processed strings."
- Massimo Ricci Touching Extremes

"The processed voice of Bob Marsh over the hostile mixture of sounds of violoncelo electric with lap steel to guitar of David Michalak, being formed a continuous process of sonorous signals of the most unusual." -Edoardo Chagas, Jazz e Arredores

"Bizarre creepiness...creepy soundbed with creepier vocs layed on top." - KZSU FM

"... an ever more whacked-out version of Residents on acid, slowed down by half, with an even more ominous atmosphere...It's a cruel, dark, cold, empty world we live in baby, but I'm loving every minute of it!" - Tom Sekowski Gaz-Eta

"This is a fully-realized album that completely immerses listeners in one of those frightening worlds that have historically been a relief to escape from when the fictional journey is at an end. Anymore, though, it's a bit hard to tell. I don't think we're quite there yet, but this could very well be the soundtrack ten years down the line. Caution! Dark times ahead." -DaveX Startling Moniker

"...take a warped little ride with Doctor Bob...like some weird hybrid of Captain Beefheart and Zeit era Tangering Dream." -Pete Pardo, Sea of Tranquility

"...avant garde and challenging...delivers weird and eclectic arrangements." - Smother Magazine